Personal Statement
"I believe that women are the heart of the family. The ability to nurture and sustain life in the form of pregnancy is a concept that continues to evoke a sense of wonder. The call to maintain the balance between being a mother, provider, spouse, student, and friend is an incredible challenge. However, it is a challenge that women brilliantly overcome on a daily basis. I aspire to help you meet these demands by providing compassionately crafted care that is thoughtful, timely and thorough."
– Jason P. Brown, M.D.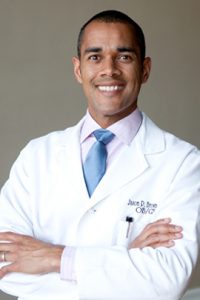 Biography
Dr. Brown was born in the Caribbean on the island of Jamaica. He moved to Texas at the age of nine with his parents and sister. He grew up in northwest Houston and after graduating from Cy-Fair High School, attended Baylor University where he earned a Bachelor of Arts in Biology with a minor in Spanish. Thereafter, Dr. Brown attended The University of Texas Southwestern Medical School. He then spent 4 years in residency training at Parkland Hospital in Dallas, Texas.
Dr. Brown is married and has two children. He enjoys spending time with his family and serving the needs of his church. He has a passion for missions and has spent time in Peru, Honduras, Guatemala, Haiti and Mexico providing medical care. He speaks Spanish fluently. His hobbies include travel, fitness, water sports, and snowboarding.
Services Offered
Comprehensive Obstetrics – including high risk pregnancy care and vaginal birth after cesarean (VBAC)
Office Gynecology – well woman exam, abnormal bleeding, pelvic pain, menopause, family planning
Minimally invasive surgery – laparoscopic hysterectomy, sterilization, laparoscopic myomectomy, etc.
Treatment of incontinence and prolapse including surgical management.
Basic infertility evaluation and treatment
Weight loss management